[With apologies to
Sarah Josepha Hale
, the long-time editor of Godey's Lady's Book. Sarah nagged President Lincoln into declaring a National Day of Thanksgiving, but her best-known legacy is a children's poem.]
Mary has a little XO,
It's powered by the sun.
And everywhere that Mary goes,
She learns and has some fun.
What's the XO? It's the brainchild of a certified nut case, Nicholas Negroponte, founder of the MIT Media Lab.
Professor Negroponte and his fellow nuts have a dream: Create an indestructable, solar-powered laptop computer that is so cheap ($100 or so) that one can be provided to every kid in the world. Undernourished kids in Africa? Yes! Shoeless kids in South America? Yes!
"Impossible!" everybody said.
Everybody was right. The impossible will take a little longer. You can't make an indestructible, solar-powered laptop for $100.
OK. How does $200 strike you?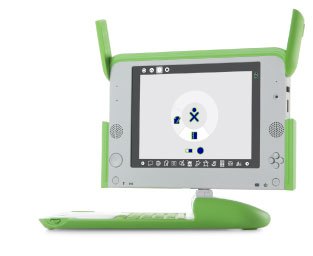 Welcome to the impossible dream: The unix-operated surfing, chatting, words and graphics and whatever else a kid can think of XO laptop now being produced by
OLPC
(One Laptop Per Child):
While children are by nature eager for knowledge, many countries have insufficient resources to devote to education—sometimes less than $20 per year per child (compared to an average of $7,500 in the United States). By giving children their very own connected XO laptop, we are giving them a window to the outside world, access to vast amounts of information, a way to connect with each other, and a springboard into their future.
Wealth managers and their clients talk a lot these days about leaving legacies that amount to more than just money. One Laptop Per Child sure seems to fill the bill.
Give One, Get One.
This weekend only, through November 26, you can help fund the impossible dream.
For $400 plus shipping, you can donate the revolutionary XO laptop to a child in a developing nation, and also receive one for the child in your life in recognition of your contribution.

Nov. 23 update: Give One, Get One has been extended to year's end. The program also got important face time from Negroponte's appearance on the Thanksgiving edition of the PBS News Hour.
Hey, big spenders!
By donating a mere $250,000, you can have a thousand XO's sent to a thousand kids in the country of your choice. And I bet that offer is good even after November 26!